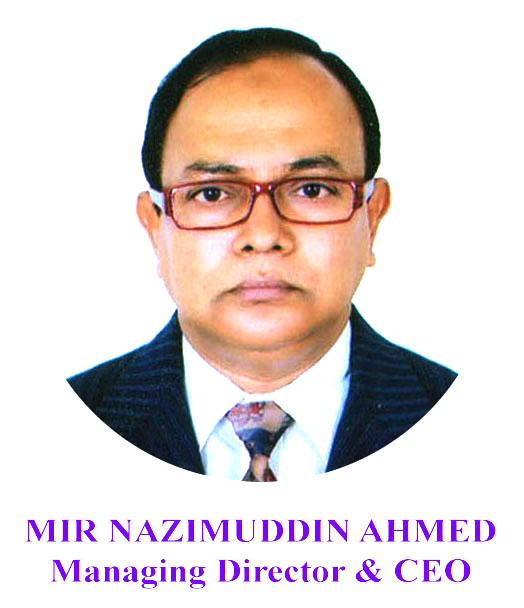 B.Com.(Hons), M.Com.(Management), C.A.(C.C.), Associate of Bangladesh Insurance Academy is the Managing Director & Chief Executive Officer of the company. He has in his credit more than 37 years experience in general insurance line i.e. non-life insurance in different departments/categories/positions. He has also 2 years experience in specialized Bank in Bangladesh i.e. Grameen Bank.
Professional Experience
Additional Managing Director, Paramount Insurance Co. Ltd.

Deputy Managing Director, Takaful Islami Insurance Ltd. (worked as Head of total company's development, Branches Control, Audit and Recovery.

Joined in Global Insurance Co. Ltd. as Senior Executive Vice President and promoted to the rank of Deputy Managing Director and hold the charge of Local Office.

Joined as Deputy General Manager in Provati Insurance Co. Ltd., Hatkhola Branch, Dhaka and promoted to the rank of General Manager and hold the charge of Dilkusha Branch.

Joined in Karnaphuli Insurance Co. Ltd. as Deputy Manager where last position was Asstt. General Manager and hold the charge of Claims, Re-insurance and Branches Control Department and one year worked in Khatungonj Branch, Chittagong as Branch In-charge.

Joined in Pragati Insurance Co. Ltd. as Senior Officer of Claims, Re-Insurance & Underwriting Department in the year of March 1986 and continued up to 1 (one) year.
Professional Participation
Cost Audit & Inventory Management by ICMAB

Deterioration of Stock by Munich & BIA

Insurance policy for Small Business Owners & Casualty Insurance by UNDP & BIA

Successfully completed course on General Insurance Claims by BIA

Re-insurance Practice by Asia Re & BIA

Motor & Engineering Claims by BIA

Participated different types of seminar organized by different organization.
Members
Rotary Club of Dhaka Green – Vice President

Legend Club of Uttara – Permanent Member

Nikunja Club – Permanent Member

Institute of Insurance Executives Bangladesh -Vice President

Bangladesh Insurance Diploma Association – Member

Bangladesh Insurance Forum – Member

Dhaka University Registered Graduate – Life Member

Salimullah Muslim Hall Alumni Association – Life Member

Dhaka University Alumni Association – Life Member
Lecturer
Bangladesh Institute for Professional Development (BIPD)

Academy Of Learning (AOL)
Writer
Interest on Teaching
Development

Claims

Re-Insurance

Underwriting